Introduction
This statement is published in accordance with the Modern Slavery Act 2015 and outlines the steps taken by OFFICE Holdings Ltd ("OFFICE") during the financial year ending 28 June 2020 to prevent modern slavery and human trafficking in its business and supply chains.
Principles
OFFICE is committed to providing customers with goods that have been produced:
• Lawfully, through fair and honest dealing
• In decent working conditions
• Without exploiting the people who made them
This commitment is upheld through OFFICE's company policies and practices.
Activities in the Reporting Period
Following our previous statement, for the financial year ended on 30 June 2019, we have continued to review our policies and improve our processes to create awareness of and to combat modern slavery.
For the first half of this financial year, we were able to progress our approach to eradicating modern slavery as we had planned. OFFICE, continued to prioritise education of staff and the supply chain to foster a clearer understanding of modern slavery. Opening up these conversations helped to improve upon our working relationships with suppliers and OFFICE's involvement within our supply base. In this first half of the financial year, we were able to continue to prioritise visits to factories based in higher risk areas; striving to increase the transparency within our multi-level supply chain year upon year.
In our key areas of focus we have:
• Deepened our understanding of modern slavery risk within our supply chain through visits to our made-to-order (MTO) factories and through the conduct of social audits
• Improved our training of staff including induction training on what modern slavery is and how to spot the signs.
• Developed our supply chain mapping ability through the use of new ways of working within our corporate social responsibility (CSR) team.
Although we were able to make a strong impact on our key areas of focus in the first half of this year our activities were disrupted by the global Covid-19 pandemic. Due to this our key areas of focus were reviewed, and the CSR team have learned and assimilated new ways of working to ensure OFFICE is continuing its efforts to eradicate modern slavery within its supply chains.
OFFICE's approach to Modern Slavery during the Covid-19 Pandemic
During the second half of the financial year, we were faced with the new challenge of the global Covid-19 pandemic. We work with an established footwear supply base and have worked closely with our suppliers to mitigate the risks, as our biggest exposure to the risk of modern slavery is within our MTO product supply chains.
Transparency has been fundamental with our suppliers during this period. Like many others, suddenly, our core approach to modern slavery within our global supply chains was no longer viable. With lockdowns across the globe, travel to visit and review factories has not been possible and some of the external third-party audits that our team use had to be postponed. Therefore, the CSR team have been working closely with our in-country suppliers to mitigate the extra risks caused by the pandemic.
Our new ways of working, established during the UK lockdowns, have allowed OFFICE to review its supply base to ensure that the long-standing relationships that we have cultivated with the large majority of our suppliers are upheld. Where possible we have reduced the number of new factories and suppliers that have been on-boarded to mitigate risks. However, any new supplier or factory proposed to OFFICE must complete the supplier and factory set-up process before any orders are agreed. This process has been developed to ensure that we have appropriate visibility of the factories being used and commitment from the agent and factory representatives to the OFFICE Code of Ethics and Good Business Practices and ethical policies outlined in our Supplier Manual.
In order to prioritise our resources, when we can travel, the CSR team have continued to map our factory supply base and risk assessed each production site geographically against the latest version of the Global Slavery Index to identify areas that are at greater risk to modern slavery and human trafficking. Due to the remote nature of our teams, we have also developed in-house systems to allow us to ensure we have the correct view of where our products are being made. Our shoes are predominantly sourced from Spain, Italy, Portugal, China, Brazil and India, from specialist footwear manufacturers.
As part of our ongoing training program all new head office staff and those who are in direct communication with our suppliers, have all been trained/retrained on the risks of modern slavery through our online portal. To work in partnership with this additional training, OFFICE has also appointed and trained a Modern Slavery Champion with resources from 'Stronger Together'; an organisation which is working to eradicated modern slavery in supply chains. Our Modern Slavery Champion will endeavour to raise awareness within the direct workforce at OFFICE and among on-site contractors working for OFFICE as contracted service providers. It is important that people in different roles within OFFICE help to raise awareness of modern slavery and inform others about how to get help and support if they need it. Our first Modern Slavery Champion will be working closely with the CSR team to increase the number of Modern slavery Champions at OFFICE in the future, allowing our teams to collaborate on a new level in the fight against modern slavery.
Continuing our work
In the current climate the CSR team will be working with the Modern Slavery Champion to improve our remote working approach to the eradication of modern slavery. This will allow the team to not only focus on our supply chains but to develop the OFFICE approach to modern slavery closer to home in the UK.
As the situation regarding the pandemic changes, we will continue to prioritise visits to factories based in higher risk areas and are committed to increasing the transparency within our supply chain year upon year. We will continue to ensure that, where possible with local lockdown rules, approved third party social audit reports are received annually for all our primary factories used for shoe production, along with any corrective action progress reports (CAPR's) for any non-compliances found. These third-party factory audits are undertaken against internationally recognised ethical codes and standards and consist of site tours, document reviews and worker interviews.
Conclusion
As a business OFFICE is committed to addressing and minimising the risk of modern slavery and human trafficking within our business and supply chain. We will continue to enhance our policies and processes throughout the next financial year as we are aware there are opportunities for ongoing development. Therefore, we welcome your feedback. All comments, suggestions and queries should be addressed to the team at csr@office.co.uk.
Approval
This statement was approved by the Board of the company on 31/05/2021 and signed by Kerry Van Der Merwe Managing Director, on its behalf.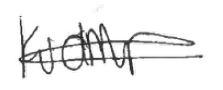 London
May 2021